👻 The Spooky Edition
Scaring your customers, better mail management, 4 business vital signs, and boosting website conversions.
Hello again, 👋
Phew! What a week.
A big "thanks" to all of you who sent helpful comments and encouraging messages on our first newsletter.
Our feedback form is anonymous so we can't thank you personally, but here is one comment of note:

While the Substack platform doesn't give us a huge range of style options, we've made a couple of changes based on this advice - hope you like them!
We had to dig around for the hidden news this week because everyone was talking about the same things…
If you keep up with the headlines, you'll know that Quibi is shutting down after just over six months of operation, that the USA is suing Google, and that Facebook is expanding to the cloud to offer more complex and free-to-play games.  
Read on and we'll show you what else is new.
See you next week,
Juliet Lyall
---
🧰 Tools
📮 Meet Your Mailman
Aside from your business email address, it's a good bet that you have a Gmail account for personal use. If you're tired of an overflowing and unmanageable inbox, then meet Mailman.
Mailman works with your existing Gmail account to do things like block annoying emails, batch email delivery or even silence your inbox for a period of time.
"Yes", this email assistant does need to gain access to you inbox in order to function, but doesn't store any data used by you in the interface. In addition, they state that they only read the timestamp, sender's address and subject line, not the body of your emails.

We think the best thing about Mailman is that you're able to schedule emails to arrive at certain times of the day. This way, you stay in control of your focus and can work on emails when you choose.
📧 Get Your Emails Opened
Writers agree that a blog post headline accounts for 80% of the creation process.
After all, if your headline sucks, then why would anyone want to click through to read your article?
A unique and enticing subject line is also the key to getting your emails opened. If your email open rates are low, then it's time to take a closer look at your email header.
That's why we were pleased to find the simplest subject line tester on the planet. Funnily enough, it's called 'Subject Line.'
We entered one of our recent headlines to see what would happen: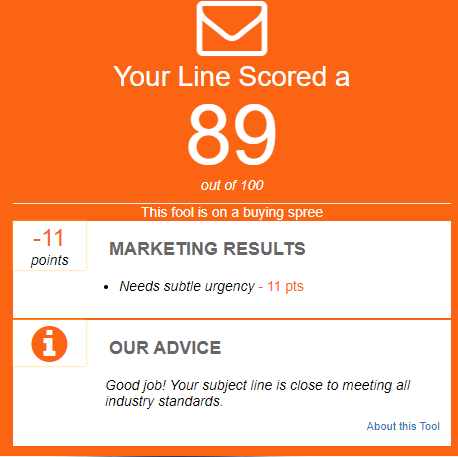 Although ours wasn't an email subject line, we appreciated the tip for improvement.
Give it a try and let us know what happens.
📏 Join This Line
Quuu Promote is not new. In fact, they've been around since 2015 and yet, we meet few people who use this great tool.
It's one of the easiest ways to get your blog posts and articles shared on social media and cuts hours off the time you spend on promoting your content.
Submitting an article on Quuu Promote takes just a few minutes and you can choose between a completely automated service or a manual option.
An audience with a genuine interest in your content shares it with their followers across their Twitter, Facebook, Instagram and LinkedIn accounts.
This doesn't replace your newsletter list or getting featured in major publications, but it's an excellent add on to your content marketing efforts.
---
SPONSORED LINK
🦄 SEOs with Skin in the Game
Smash Digital - a growth agency, filled to the brim with unicorn images and SEO memes.
A team of SEOs with actual skin in the game, ranking their own portfolio of profitable businesses, and offering the exact same services to clients.
An agency with so much link juice you'll need a mop and bucket to clean it all up. Check. Them. Out.
---
📚 Articles
💓 Check Your Vital Signs
Pilots use them and Doctors do too. They're called checklists.
Checklists focus on the metrics that truly matter. Just like a pilot implements a standard procedure before every flight, it pays to regularly check your business for the main indicators of potential trouble.
The CEO of Rocket Science shares four business vital signs that he's identified in an article for Entrepreneur.com.
These include:
Inbound volume

Outbound volume

Work in progress, and

Time to completion
Tracking each of these allows you to keep control of your business without drowning in data.
💻 Boost Your Website Conversions
Most marketing budgets are spent on getting traffic to a website.
But generating and converting more leads is a much smarter marketing strategy. For a start, it doesn't require a large on-going budget.
Once someone lands on your site, there are many free and relatively inexpensive tactics you can employ to keep your visitor engaged.
In their recent article, Convince and Convert outline 5 techniques to generate and nurture more leads from your existing traffic.
We're big fans of video for boosting conversions and this is one of the methods they discuss. Did you know that 84% of people say that they've been convinced to buy a product or service by watching a brand's video?
😱 7 Ways to Frighten Your Customers
We know it's Halloween, but please don't scare your customers away.
Unfortunately, there are plenty of misguided business owners who send customers running to their nearest competitor: all because they lost sight of what's important and valuable to the people they serve.
Mistake #1 is responding to your customers like a zombie.
If you're relying on scripted responses and have no room for personalized problem solving, then you're missing a huge opportunity to stand out as a brand. You'll look like all the other pumpkins in the field.
Mistake #5 is sucking the lifeblood out of your team.
The customer experience and the employee experience are inextricably linked. Creating happy, loyal customers requires having happy and engaged employees. If your staff aren't appreciated or respected then that negative energy will see your customers disappearing faster than a vampire at dawn.
Jon Picoult uncovers 5 additional grave mistakes in his article that will help you avoid your worst nightmares.
🎙️ Podcast 
How do you narrow down what to work on in your business?
This episode from Evergreen Profits asks that question of Geoff Woods, who is the Vice President of The ONE Thing.
Geoff says:
I was where a lot of people either have been or are right now, which is life is good and you are lacking fulfillment. I remember feeling like I was destined for more and I know that I'm meant to do bigger things for this world.
👋 The Awkward End Bit
That's it for this week.
How did we do this time? 😅
Hitting one of the buttons below will instantly turn you into a ghoul (it won't really, we promise).
P.S. Happy Halloween (if that's your thing)🎃